It has been a while between drinks but here it is, another story from our main man Matt Russell. This time with tales from ADGP Round 1 at Calder.
What's that taste? Tastes sour, oh, it's the taste of my own words as I chew on them. I'm sure many others could taste the same tears as all of the pre-event internet whinging about an event that had not even happened yet very quickly became apparent that it was far from everyone's expectations. I am, of course, talking about Australia's newest drifting series the "Just Car insurance-Australian drifting grand prix".
A long week made for a tiring morning, the track appeared bland and the line for scrutineering looked even more uninviting but the best thing about this morning, was that my "list of rage" ended there. The weeks of anticipation became reality as we hit the track for the first time, unfortunately for myself, that's exactly what I did, hit the track. A maze of concrete walls and water barriers made for some very interesting entry's and a lot of broken fiberglass. Second lap in, I managed to tag the entry wall and said good bye to my drivers tail light, rear bumper and some of my rear quarter panel. However, even though I knew takumi tax would prevail and end up costing me an arm and a leg, I think it was a god send as it made me feel much better about scraping the same corner of the car on one, if not three walls on every lap for the remainder of the weekend.
Qualifying and practice were an all in deal, with no specific given qualifying time, the judges eyes could have been on you during any given practice lap which made for a very balls to the wall approach for many drivers. Which in turn allowed me to capture the world record long distance jump for an AE86. What do you get when you have a water barrier lying on its side on the inside of a corner as you try and push up the inside of another car? You get freestyle motocross with out the flat brim hats and Southern Cross stickers. I jumped three whole water barriers clear and landed on the fourth, piercing it with my tow hook and ultimately becoming beached (as bro) on this white plastic hump of love in the infield. Honestly, if you think you can beat that I invite you to politely come at me.
After signing a few polaroid pictures of my jump that those lucky few had snapped I was informed that the judges had qualified me for the top 32, if I hadn't had made the leap of barriers I probably would have been sent packing. So with that being said, my trusty pit crew (mainly Claw, who was by far the drunkest of my pit crew) went to work on my bent tie rod as I prepared myself for the top 32 solo qualifying runs. Would I go for 5 barriers this time? I needed not, as Claw, the magical man of many missing fingers attacked my eye-linement with some toe out, and the car felt much better than before and for once, I threw together two neat and tidy qualifying runs with no need for a jump. Having the track to myself meant everybody could bask in the sounds of my heavenly dose as I made my way up the list to 14th in the qualifying race.
As Saturday turned into saturnight, the mighty Leigh Pidwell, who's hopes and dreams of driving round one of the 2011 ADGP had been shattered at the gate due to his ford laser not having the correct stickers to allow him into the pits, causing him to miss the last qualifying session (yes, Leigh has never shown up to a competition before the final five minutes). Having gone to the effort of coming to the track to sign in and attend drivers briefing, to then go back to the workshop to try and finish his car, to then come back to the track to borrow my car to try and qualify in, to not being let in the gate it was a big kick in the balls for Leigh. I think we all know that the ADGP staff were just worried that he would infact attempt qualifying in the 300FWKW laser and take pole position. Unfortunately the run of constant all nighters had taken its toll on Leigh who not only nearly fell asleep on his way home, but only made it 10 minutes down the road before the laser ran out of 91 octane nitrous and I received the usual help call. Luckily for Leigh I had packed some straps back in the tow truck and we found him asleep just off a highway somewhere in the Blazer.
Dawn broke on Sunday, we arrived at the track to find everything still there. (This is Melbourne remember, it's not often you find things where you left them). The day started with a nice practice session, allowing the drivers to sober up… sorry, warm up for competition day. I decided to sit the second practice session out as its unusual for my car to last one full day of driving let alone two, so I didn't want to risk it. Then, business time. Top 32 battles were up and I was against 19th qualifier, Mitchell Jeffery. Two clean runs from both of us left us both guessing in the pits afterwards for nearly half an hour, we both seemed to be under the impression of a re-run but in the end the judges awarded the advancement to Jeffery and I bitterly went back to my car.
Top 32, became the top 16 and I still hadn't seen a battle that really caught my eye, I saw some very questionable decisions from the judges but who am I to cause an argument over drifting politics? Although without a doubt the most interesting battles of the day came down to Pickering and Agges. Honestly, I think Christian Pickering would have to be one of, if not THE most exciting drifter in Australia to watch and drive behind. Wild angles, while holding speed and keeping only millimeters between bumper bars being able to impregnate each other. The guys got it all down pat, and his battles against Agges were no different, it wasn't long before Agges caught onto this style, aggression and flow which ultimately lead to the 47 re-runs they had together.
In the end, it came down to Agges over Declan Walsh, giving Agges third place. Second ended up going to Tarquin Van Rooyen and a Big Bloke in a banana suit driving the pineapple express took the win. It was a shame to see a few other drivers such as Nigel Petrie and Anthony Cece get knocked out early as they were some of my highlights of the weekend. Nigel seems to just keep stepping it up lately, more speed, just as much angle and good lines. Cece was probably my favourite driver of the whole weekend, never have I seen someone nearly scrape their WHOLE rear bumper along a wall repeatedly lap after lap.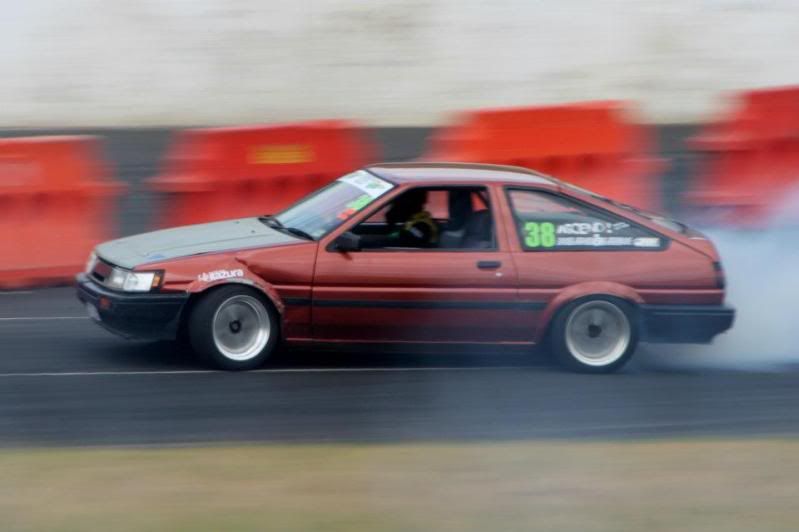 After the formalities of the weekend, I stripped off my race suit pyjamas and we were let loose in a final demolition derby. Long story short, things got way out of hand, I tail slapped the walls more then my girlfriend, then, just like my girlfriend, the wall hit back and I came off second best. I decided to call it a day and limped my car which now had matching front end damage back to the truck and we headed home.
ADGP had certainly exceeded our expectations, the event turned out to be a bunch of fun and there was plenty of great driving, im sure if the spectators could see they would say the same thing. I caught Ginga and DK in the toilets at one stage with the "Wreck-em" camera's and their pants down so im sure there will be some awesome footage pop up in this years Wreck-em DVD. A big shout out goes to Karl and Luke from Unique Automotive, JDI fabrications and Nathan from Ascend automotive. Also my pit crew for the weekend (Nicole, Karl, Claw and Cam).
Now that you have finished reading my rubbish, go out into your parent's driveways and drop a skid.
-Matt Russell
———-
Photos provided by Matt's Girlfriend/family as well as Luke Hobbs!